Corporate Overview
Company Name

JECC TORISHA Co., Ltd.

Head Office & Factory

8-52, Yoshinodai 2-chome, Kawagoe-shi, Saitama 350-0833, Japan

Foundation Date

February 1, 1932

Capital

100 million yen

Stockholders

TAIYO NIPPON SANSO CORPORATION 51% / Suzuki Shokan Co.,Ltd.49%

Turnover

1,200 million yen(Fiscal 2020)

Accounting closing date

Our fiscal year runs from April 1 through March 31 of the following year.

Activities

01

Design, production, sale and maintenance of science equipments.

02

Design, production, sale, export-import business and maintenance of high performance




Vacuum jacketed pipings, Cryogenic apparatus, High-pressure gas equipments, Vacuum




apparatus and related goods.

03

Any and all businesses incidental to each of the foregoing.

Permission & License

Ordinary Construction License: (TOKU-28) No.035676




・Plumbing




・Machine and Equipment Installation

Authorized by the Minister for Economy,Trade and Industry

Authorization Number:MAB-510-M-1
Type:Pipes
Approval Data:February 28,2018

Number of Employees

73 (Directors excluded)

Directors

Director President : Hiroshi Matsuda




Director Vice President : Kazuya Hashimoto


Director Executive Manager : Koji Nadehara
Director Engineering Manager : Yasushi Nakamura


Part-time Director : Toru Yanagawa




Part-time Director : Yoshihiko Suzuki




Part-time Auditor : Shogo Aoki




Part-time Auditor : Nobutuki Shimoda

Our Banks

Mizuho Bank, Ltd.
Sumitomo Mitsui Banking Corporation
MUFG BANK, Ltd.
The Musashino Bank,Ltd.


Inquiry

U359515@jecctorisha.co.jp
Greeting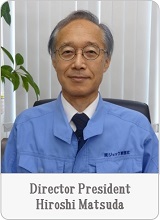 Since its establishment in 1997, JECC TORISHA Co., Ltd. has responded to the needs of many R & D fields and industries with our specialty of "high vacuum and cryogenic technology".
The situation surrounding us is constantly changing and becoming more complex, such as the realization of the carbon neutrality by 2050 and social changes caused by IT. Especially in recent years, the transition speed has been accelerating, and the needs of customers have become more diverse and sophisticated.
To express the characteristics of JECC TORISHA, it is a "group with an intellectual professional temperament" and a "manufacturer who makes a big change in manufacturing". We will continue to study to meet the changing needs of our customers by taking advantage of our vigorous curiosity, the development of unique and sophisticated equipment and devices, and our own technology.
We continue to provide best solution for you with our expertise.
Predecessor of the Company
TORISHA Co,.Ltd.
The company was established as Torisha Science Laboratory in February 1932 to develop and market small liquefied gas containers. Since then, the company constantly pursued new technologies by focusing on high vacuum and cryogenic products. We contributed to the innovation of latest technologies required for research and development by various companies and institutes including universities through designing and producing scientific equipments with the cooperation of their researchers. We also manufactured and supplied products such as space development related equipments. We were the company that just fitted in the concept of "the group with live intellectual craftsmanship." This concept became and kept to be the main feature of the company.
JECC Co.,Ltd.
The company was established in July 1983 as a joint venture of Suzuki Shokan Co., Ltd. and CVI (U.S.) to manufacture and market various cryogenic equipments. Our vacuum jacketed piping was superior by far to the products by other manufacturer concerning its performance and durability. It was widely used for transportation of liquefied gas generated by air separation plants and supplied to semiconductor devices and soft drink facilities. Furthermore, we also designed, manufactured and sold cryogenic pumps and other cryogenic equipment related products, resulting in acquired high reputation in the industry.